Locatify is proud to sponsor this years Museum Ideas Conference in London 2nd-4th October. Locatify will be hosting a 50 minute workshop to demonstrate the accuracy and what is possible with the latest UWB Indoor positioning technology and we hope to see you there.
The workshop will include a recent use case where Locatify covered a 5,000m2 with 30cm Indoor Positioning accuracy using UWB, a live UWB demonstration and hands on creator CMS® tutorial for creating and managing mobile apps using Locatify's platform.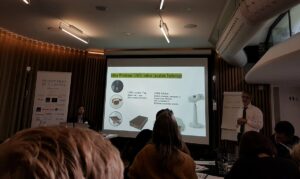 Locatify Workshop Information
Where: Garden Room at the Museum of London
When: 13.30–14.20 on Tuesday 2 October
Duration: 50mins
Thursday 4 Oct: Conference Day – Museum of London
Explore the ideas shaping the future of museums with an international programme of pioneering speakers, an exclusive study day and the opportunity to make exciting new connections.
Each year Museum Ideas brings together a group of fascinating speakers and challenges them to share innovative ideas in concise, powerful talks.The aim is for delegates to be inspired by perspectives outside their own specialism and locality. What unites the conference is the quality and enthusiasm of contributors along with their desire to share valuable expertise and experience.
Speakers this year include Kevin Bickham, Lead Interaction Designer, British Museum; Katrina Lashley, Program Coordinator, Smithsonian's Anacostia Community Museum, Washington, D.C.; Joyoti Roy, Director of Marketing, CSMVS Museum, Mumbai – India; Chris Michaels, Digital Director, National Gallery, London; Tui Te Hau, Innovation Hub Manager, Museum of New Zealand Te Papa Tongarewa, New Zealand; and Manal Ataya, Director General, Sharjah Museums.
Now in its seventh year, Museum Ideas welcomes hundreds of leading museum professionals from around the world. Delegates from over 20 countries took part last year.
Tues 2 Oct: Workshops – Museum of London
There will be an extensive programme of pre-conference events including practical workshop exploring digital strategy and engagement, immersive experiences, and storytelling. There will also be exclusive tours of the London Mithraeum.
The reconstruction of the Roman temple has taken ten years to complete in consultation with the expert team at Museum of London Archaeology. The new immersive display was created by an interdisciplinary team led by internationally-recognised design firm Local Projects. Additional pre-conference events, performances and tours will be announced soon.
Wed 3 Oct: Study Day – National Maritime Museum
Over the past 4 years Royal Museums Greenwich has been undertaking a dynamic journey in the development and delivery of the Endeavour Project. It has been working to facilitate historical, cultural and personal journeys through the collections in the development of four new galleries which will transform the visitor experience and a new collections storage and conservation centre that will be open to the public.
The Endeavour Project has created a sea change in the Museum with new approaches to community research, co-curation, and partnership working in the delivery of interpretation and programmes.
This exclusive study day will showcase the process and outcomes of collaborative working and demonstrate how the legacy of the Museums own 'voyage of exploration' will impact on its future planning. The day will include a series of gallery tours and talks and the option to visit the new £12 million Conservation and Collections Centre.
"An inspirational conference! A coming together of museum minds from across the world – gaining insights, sharing ideas and making connections" – Gillian Crumpton, Ironbridge Gorge Museum Trust