What is The Automatic Museum Guide?
The Automatic Museum Guide is a revolutionary technology that empowers museums and galleries to create immersive multimedia experiences, engaging visitors through narration, guidance and more. Use cutting edge location-technologies to enable audio, video, AR and other content to be triggered automatically as guests move through the space.
How is the app used?
The Automatic Museum Guide app can be downloaded from the App Store / Play Store and used on a visitor's personal mobile device or via rental devices provided by the museum. Guest can then choose their desired language, download the tour content, and enjoy offline.
Location-based content triggering
The Automatic Museum Guide works both indoor and outdoor. Outdoor content is triggered using maps and GPS, and indoor exhibitions  are enabled using floor maps and BLE Beacons or UWB, depending on the requirements.
The app detects where a visitor is located and when the visitor approaches exhibits, the app automatically plays a corresponding guide in the form of audio, video, game content, AR, text or HTML content.
Floor map only or no location-triggering
Indoor exhibitions can also be created without the use of location-technologies. In this instance a floor map graphic can be uploaded to the Locatify CMS with clickable "stations". Stations can represent specific exhibit pieces, areas or rooms.
If no floor map is used, the exhibit locations (stations) will be displayed in a list order which the guest can play at any time.
Get your own Branded App!
Enhance your museum visitor experience, collect useful data, save on costs and serve a wider range of customers with multilingual content. White-label templates make it quick an easy to get your own branded app: customise loading page, banner/skin, app icon, logo etc. Once you have your app, Locatify's simple drag and drop tour builder enables curators to create and manage tour content anytime.
Try for free!
Everybody can create and test their own games and guides using the Locatify Creator CMS and generic TurfHunt test-app free of charge.
Simply sign up for Locatify Creator CMS and download the TurfHunt app to Android or iOS.  For indoor tours and games you will need a venue floor map and if using automatic content triggering; iBeacons or UWB hardware.
Read more:
Branded app increases online agency and visibility of brand
Offline content  installed app on the device does not require internet access to operate
Multilingual content allows visitors to listen, watch or read descriptions in various languages
Indoor and Outdoor exhibits supported all in one app via BLE beacons, UWB and GPS
Venue map  so visitors know where they are at any time with access to information about objects in different rooms
Indoor Navigation helps your guests find what they're looking for with ease
News and announcements  can be delivered to  visitors directly through the app
Treasure hunt games support active learning and encourage people to explore the venue
Map Markers allow for promotion of local stores or locations of interest outside of your museum
Coupons  to advertise and offer discounts for cafes,  shops and other points of interest on the museum map
Collect visitor details with optional login page
Admin Mode for staff to follow up on beacon's activation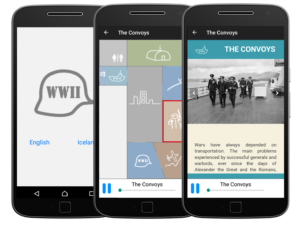 Testimonials 
---
"The Locatify system makes it simple to create and publish your own tours, add updates and new content as projects develop."
Andrea Easey, Interpretation Editor
---
"Locatify developed an audio guide for Eldheimar, which is a very important part of the museum. The cooperation with Locatify is very good, the company is enthusiastic and professional."
Kristín Jóhannesdóttir, Director
---
"The interactive map, that we made for the Netherlands-Bauhaus expo in Museum Boijmans Van Beuningen, shows the visitor a hidden layer of interconnectivity between artists in this art period. Thanks to the clever and easy to use mapping system and customisation services of Locatify we were able to realise the challenge of making hundreds of stories and images associated, interactive and ultimately: accessible."
Kuba Szutkowski, Director, Studio Maslow

---