Icelandic software company Locatify recently received a research and development grant from Rannis, which administers the main public competitive funds in the fields of research, innovation, education and culture in Iceland. The grant is awarded to Locatify to help develop a precise indoor location solution, enhancing Locatify's existing indoor proximity and location based app solutions.
Ultra-wideband UWB Real time location solution
Locatify has a well developed Content Management System (CMS) which makes it easy for users to create and publish guided tours, treasure hunt games and geolocation sensitive content to mobile apps. The multimedia content (Text, Audio, Video, HTML, interactive Games etc) and locations for triggering content are uploaded and managed in the Creator CMS and published to an app. The existing solution harnesses the users mobile device to connect with BLE beacon infrastructure to provide the user's location and to trigger content through the app at the right time.
This existing solution works great for outdoors but lacks precision indoors with the BLE beacons providing around 2.5 meters accuracy. The new development will use Ultra-wideband (UWB) technology which is already in use for asset tracking and controlling robots, providing indoor location positioning accuracy within 30cm in a 3D space.  Locatify is creating a solution, allowing the UWB solution to communicate location data directly with mobile devices by adding a Bluetooth communication channel. This UWB / Bluetooth combination will provide an accurate end to end solution for locating and delivering location specific content through an app.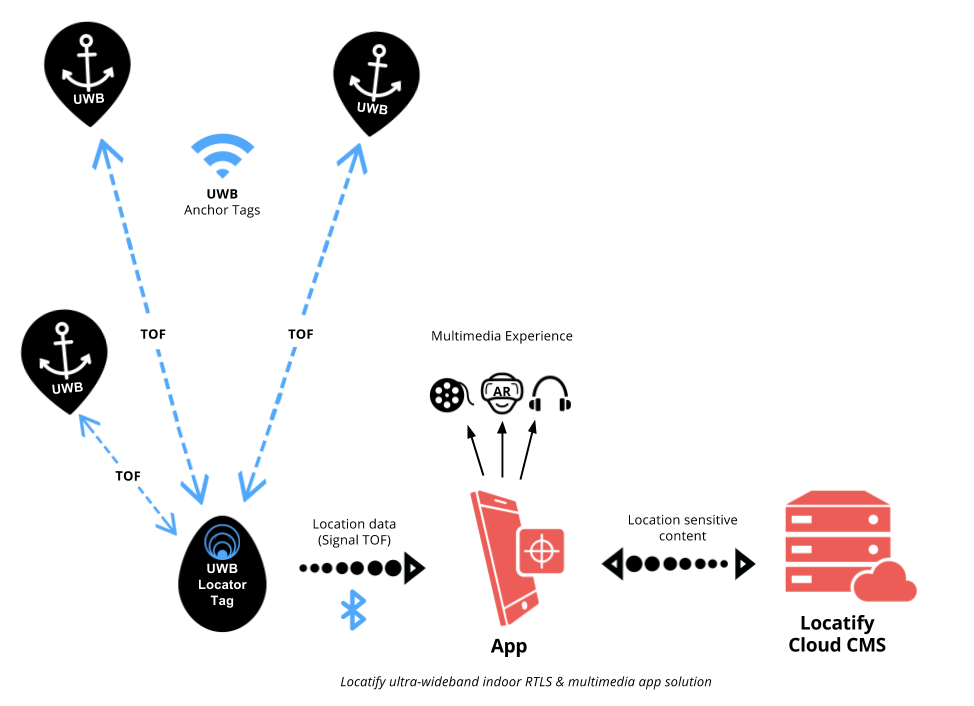 Immersive Experiences & Automatic Museum Guide Innovations
This development in precise indoor location technology is going to allow for a new generation of precise indoor experiences and possibilities. With an app, Locatify UWB solution and a smart device – fully immersive experiences are going to be much more easily achieved. With traditional smart devices like phones and tablets Locatify will offer more precise indoor positioning, triggering of content and accurate turn-by-turn indoor way-finding. With the addition of Head mounted devices (HMD), Augmented Reality (AR) and partnerships with content producers, Locatify will be delivering fully immersive experiences to museums and other indoor spaces in the near future.
Development update and release dates coming soon, watch this space.
Read more: Location Based Augmented Reality Apps 2017 (RTLS & AR)
Read more: Eldheimar Museum Automatic Museum Guide using BLE beacons
With special thanks to