Technology and consumption have never been more connected in such a complex way. With such a relationship and with access to technology increasing, we are presented with exciting innovative developments in AR applications. Start-ups, hardware manufacturers, developers, marketers and everyone in between are looking for the next big thing, hedging bets and pushing forward as they try to find their product-market-fit and keep ahead of the rapidly evolving landscape.  This blog focuses on two key technologies; real-time-location-systems (RTLS) and augmented reality (AR) applications, and explores their current relationship.
Augmented reality (AR)
Augmented (or mixed) reality is the integration of digital information with the user's environment in real time. Unlike virtual reality, which creates a totally artificial environment, augmented reality uses the existing environment and overlays new information on top of it.
Boeing researcher Thomas Caudell coined the term "augmented reality" in 1990, to describe how the head-mounted displays that electricians used when assembling complicated wiring harnesses worked. One of the first commercial applications of AR technology was the yellow "first down" line that began appearing in televised football games sometime in 1998. Today, Microsoft Hololens, Google glass (Now, Glass at work) and rear view displays in car windshields are perhaps the most well-known consumer AR products, with mobile phones being the most widely used AR viewing platform, thanks to AR enabled apps like Snapchat an Pokemon GO.
Consumer AR products have come along way from their origins. While social and gaming are the obvious applications, AR technology is being widely adopted in various other industries including healthcare, education, public safety, manufacturing, tourism and marketing.
Developing AR apps and content have traditionally been restricted to programmers, written in special 3D programs that allow the developer to tie animation or contextual digital information in the computer program to an augmented reality "marker" in the real world. When a device's AR app or browser plug-in receives digital information from a known marker (usually through the devices camera), it begins to execute the marker's code and layer the correct image or images.
While users may be blown away by first impressions of the latest AR, it's still in it's infancy. With increased consumer interest,  development of AR enabled hardware, improved software and access to AR SDK's increasing, the AR landscape is set to rapidly improve.  See top 20 AR apps Digitaltrends.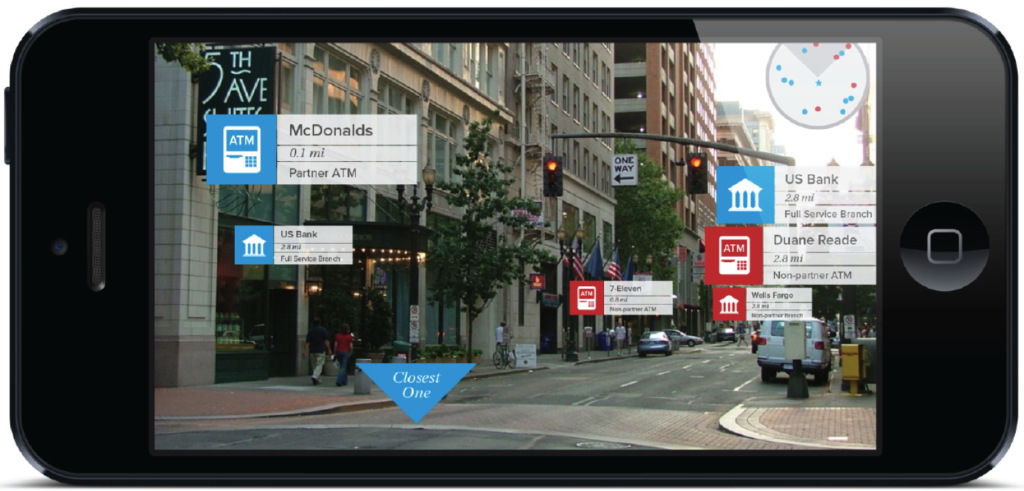 Real-time location systems (RTLS)
A real-time location system (RTLS) is one of a number of location based technologies that detects the current geolocation of a target, being anything from a robot, a pet, an item in a supply chain or a person. RTLS-capable products are providing value to an increasing number of sectors including supply chain management, health care, retail, culture & heritage, tourism, recreation, and postal services.
RTLS is typically embedded in a product, such as a smartphone or a GPS navigational system. Since the release of Apple's 3G iPhone and Google's LBS-enabled Android operating system, there has been a flood of GPS and bluetooth enabled smartphones, allowing developers to introduce millions of consumers to applications working with location based technologies. While GPS is the most commonly used RTLS, it doesn't work in closed environments.
Most indoor RTLS consist of wireless nodes- typically tags or badges – that emit signals and readers that receive those signals. Current real-time location systems are based on wireless technologies, such as Wi-Fi, Bluetooth, ultrawideband (UWB) and other Radio-frequency identification (RFID).
BLE beacons have been most widely used for locating and triggering content based on proximity in recent years but with the release of the Decawave DW-1000 UWB chip, improvements in software and advances in machine learning algorithms, the space has opened up for much more accurate systems.
 Common RTLS applications include:
Fleet tracking: Fleet-tracking RTLS systems make it possible for an enterprise to track vehicle location and speed, optimize routes, schedule jobs, aid navigation and analyze driver efficiency.
Navigation: The most basic navigation services provide directions for how to get from Point A to Point B. Incorporating GPS, mapping, indoor RTLS's and mobile cellular technology will enable more complex navigation services.
Inventory and asset tracking: RFID technologies are widely used for asset and inventory tracking. RFID tags communicate wirelessly with RFID readers throughout the enterprise and are cost effective.
Personnel tracking: Different technologies are used for on-site personnel and workers in the field. Systems that track field workers are typically GPS-enabled mobile phones. On-site personnel tracking systems often use RFID technology, such as UWB RFID-enabled badges.
Network security: Wi-Fi Protected Access (WPA) can limit the physical area from which a user can connect to restrict access based on the user's location.
AR and mobile in 2017
Sophisticated AR programs used by the military for training may include machine vision, object recognition and gesture recognition, but for mass market consumer products we are looking to improved AR enabled smart devices and head mounted devices (HMD) like Hololens.
"There's been a consistent, low rumble of hype saying the next iPhone will include hardware-level Augmented Reality. Tim Cook has gone on the record to sing the praises of AR, and Google's Tango platform and Lenovo Phab 2 smartphone have already shown how such a system might work. So, is AR going to be the big feature that sells smartphones in 2017? To the few and the fabulous, but it is unlikely to make it's debut in currently popular smartphone lines this year.
Yes, Apple will finally make an Augmented Reality SDK accessible to developers, which should open the doors to more powerful iOS AR apps in 2017. That said, additional hardware like a depth-sensing camera (RGB-D, for example) will be required to create smartphones that include true, hardware-based AR." – Marxentlabs 5 top Virtual Reality and Augmented Reality technology trends for 2017
AR applications looking to scale to a mass consumption product will be keeping a close eye on hardware manufacturers, with cheap and effective AR enabled devices playing a key role in the development and uptake of these products in the near future. While the hardware matures, apps that can provide a compelling AR experience through current mobile devices have an incredibly large distribution channel to take advantage of.
RTLS + AR apps
Common AR applications available today use a marker to trigger the content which is sufficient for projects where the user doesn't need to be moving to experience the AR benefits (Reading a magazine with an AR graphic to link to a webshop for example). Other AR applications for smartphones where the users physical location are important, typically include GPS and use SLAM to pinpoint the user's location and to detect device orientation. Utilizing RTLS to enhance the AR experience helps create more immersive experiences by relying on physical proximity to automatically trigger the experience instead of conscious behavior like scanning a marker with your phone camera.
Location based augmented reality apps at the time of writing (and possibly into the near future) don't come bigger than the wildly successful release of the 2016 Niantic Labs Pokemon GO app. While the location based AR technology isnt brand new – Niantic's former location based AR game; Ingress was launched in 2012, although it wasn't until the success of Pokemon GO that a spotlight was shone on the technology. By combining location based RTLS (GPS) and AR in combination with pop culture, Pokemon GO has brought these two technologies to the mainstream, clocking up over 500 million downloads and raising a cool $950 million in the process (source: App Annie report).
Outside of gaming apps we have plenty of real world examples showing how AR & RTLS can be combined to provide value to consumers and businesses. Large and hard to navigate spaces such as hospitals and airports are taking advantage of BLE beacons, wifi and combined RTLS to provide indoor navigation with turn-by-turn way finding in the form of AR directional arrows, distances and important information. Building and venue managers are testing RTLS to detect how visitors are interacting with spaces, collecting data and using AR apps to communicate messages to guests in innovative ways.
Not only are these apps raising funds and smashing app store records, they are showing a potential for action, change and meaningful experiences. Niantic's global lead for marketing; Archit Bhargava stated that players had collectively walked 8.7 billion kilometers playing the game and others have voiced opinions on various health and societal benefits from; dog walking, trash clean up, and relief from depression and social anxiety among others. While we may not agree with all of these statements, it is clear AR and location tech can inspire real life action. How we choose to harness this lies within the applications we develop.
Conclusion
With increasing access to, and uptake of this technology, whether its through products like Hololens or smart phone apps, we are provided an opportunity to develop truly great location based AR products. Airports, hospitals, museums, sports stadiums and theme parks are already enhancing visitor experiences with RTLS and AR applications, with many companies exploring their use in proximity marketing, innovative retail displays and social media. Whilst replacing the Pokemon with the Simpsons may not generate 500million downloads, it is clearly a great time to be creating innovative AR and RTLS products.