The Locatify team is looking forward to debut the latest museum solution, a super precise indoor location technology and bone conduction headphones, at MuseumNEXT conference in Rotterdam, June 26th-28th. This Wideband (UWB) proximity solution for museum is brand new and is 10 times more precise than ibeacon technology.
The conference is the largest event in the MuseumNEXT global conference series with more than 500 museum professionals joining from around the globe. The conference focuses on innovative technologies and ideas that shape the museum landscape, bringing together industry leaders and stakeholders for inspiring talks, workshops and visits to the top museums in Rotterdam.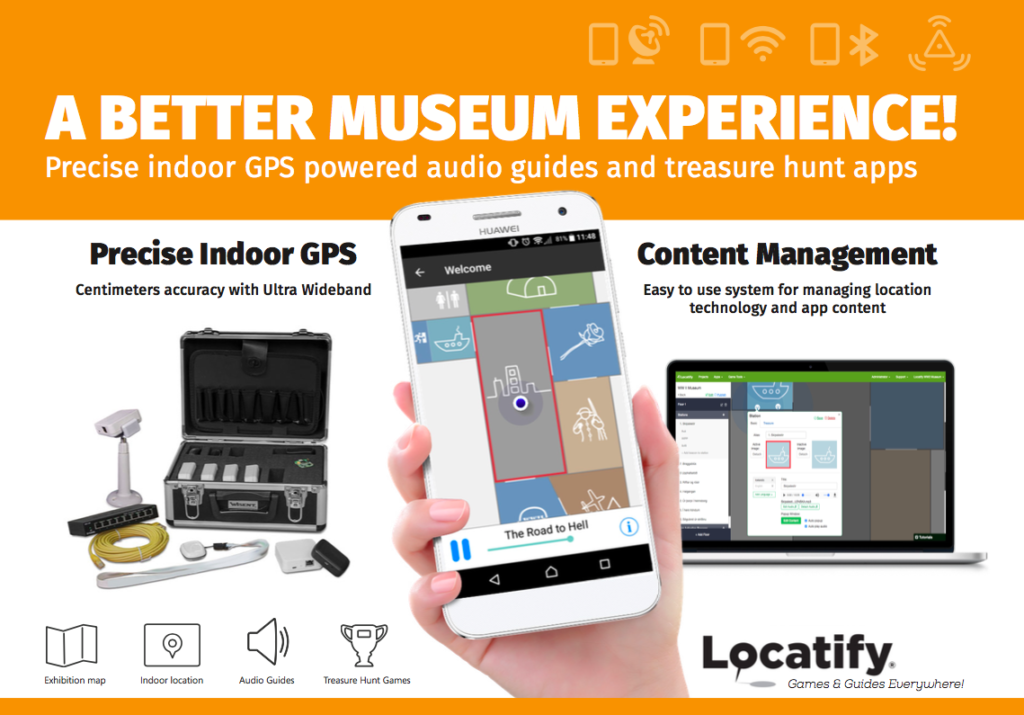 Locatify will be presenting the latest development in hyper precise indoor location technology and innovative headphone design. The museum solution includes an Ultra-Wideband powered automatic audio guide and scavenger hunt game, which will deliver audio and visual content with centimeters precision. All content and location data is managed in the Locatify Creator CMS, making it easy for anyone to manage their own app content.
The Ultra-Wideband enabled audio guide and treasure hunt game will be demonstrated via Android tablets and a large 60″ TV which will display a venue floor map with exhibits placed close together and throughout the venue. Guests will be provided with a custom UWB wristband, tablet and Aftershokz headphones to explore the conference venue, seeing their location move in near real-time, finding location based challenges and location aware audio.
Locatify UWB wristband
Bone Conduction Headphones
A demo game has also been created to demonstrate the accuracy of the technology which will involve UWB wristband working as a net for catching digital items which will be moving towards the player on the 60″ TV screen.
The bone conduction headphones are designed so the wearer can enjoy audio content and the social aspect of visiting a museum without interruption of the audio guide experience. Guests will be able to enjoy the audio, listen to stories about exhibits whilst still being able to talk with friends without adjusting the headset.
The team looks forward to meet with conference guests and debuting Locatify's latest museum solution to the innovation focused museum audience.