Locatify had the opportunity to exhibit their education package and latest offer at SETT SYD, modern and innovative learning conference last week in Malmö, Sweden.
The Locatify Education package focuses on creation and gamification and consists of GoldHunt Education; Treasure Hunt Game app and GoldWorm Education; Interactive book app. With thanks to support from Nordplus Horizontal, Locatify worked on the GoldWorm project with a passionate team consisting of people from Iceland, Faroe Islands and Latvia, who met at the conference to introduce the book platform, and how students have been using it in the respective countries.
As a company passionate about education, Locatify made the decision to offer the education package for free for 1 year which was very well received by conference attendees, with plenty of interest and new users signing up to trial the treasure hunt games and interactive books. The trail offer is being extended beyond the conference and is offered to all educators for 1 year. Simply signup for a trial using your education providers email and voucher code "MYGIFT" on the signup page and download the GoldHunt and GoldWorm apps.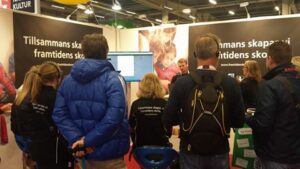 Another highlight of the conference was Johan Hultgren of Staffanstorp Kommun providing an insightful presentation on how to use Locatify's TurfHunt Treasure Hunt creator and app, at SETT SED.  TurfHunt uses the same technology as GoldHunt, although created for general public use,  including in-app advertising.
We would like to thank everyone at the conference who stopped by the Locatify booth and expressed interest. We would also like to thank NordPlus Horizontal for their support, and;  Jolanta Aboltina,  Torfi Hjartarson and Dorit Hansen for their continued involvement with the GoldWorm project and help at SETT SYD.
For further reading please see:
GoldWorm book project in Faroese – Dorit Hansen's blog post on the project on the Náms website and Faroese teachers' magazine post
GoldWorm book project in Latvian – Riga Valdis Avotina Elementary School blog  and E-Skola post by Jolanta Aboltina.