What will our future look like when we equip our daily environments with smart, AI technologies? In the media, techno-optimists and critics are battling out whether we are heading towards a future in which our cities, homes and offices become so 'smart' that they can adapt to each individual. Rather than discussing, dreading, or dreaming about this future, we have built the office scenario 'Queen B', for people to experience today.
A spatial installation and event speculating about the (technological) future of work and the workplace… "Based on your profile, I have reserved a spot in the lounge for you"
Queen B is a workspace and experimental AI service that collects your data and steers you throughout the day, by sending personalized voice messages ("You look a bit tired, I suggest you grab a coffee", "I would not formulate that sentence that way", I gathered that you are a morning person. Start the afternoon in the meditation zone. "etc.). By suggesting particular actions and movements, Queen B supports you to be at your most productive.
Located at co-working space B. Amsterdam, users could apply to the service, work in the office space, and experience this potential future scenario. The speculative project was concluded with a closing event on June 21st where the implications of such a scenario were discussed by a panel of experts. Speakers included Siri Beerends (cultural sociologist), Sophie Kuijt (AI ethics lead for IBM Benelux), Edwin Gardner (futurologist), Sander Veenhof (AI artist) and Queen B herself.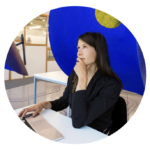 "It was fantastic to come to an actual future experience together! The location-based technologies from Locatify ensured that participants could be traced everywhere in the workplace and were personally and locally addressed by the AI system "Queen B". The aim of the project is to conduct a discussion around the data-driven workplace with parties that have actual influence on the realisation of this future.
By critically exploring the ethical frameworks together, we hope for a conscious implementation of AI in the workplace. It was super interesting to talk to Locatify about the role of their technologies in this possible future and where they hope it will goes.."
– Celine de Waal Malefijt, co-founder studio LONK.
Labor lab is an initiative by Studio LONK and Ditt officemakers, which through a series of projects and events; is forming a spatial exploration of the future of work and the workplace. 'Queen B' is the second chapter of the 'Labor Lab' series and you can read more about the first chapter 'Senior Spaces' here.
 Studio LONK's Celine de Waal Malefijt on "Queen B": "This scenario is really not that far-fetched, as we are letting technology get closer and closer to us. By building this installation and organizing this event, we want to stir up a necessary conversation. Is this a convenient service, helping us to be the best we can be, or a daunting scenario, undermining our privacy and autonomy?"
Labor Lab is supported by Stimuleringsfonds Creatieve Industrie, Big Brands, Annexum and Timeless Investments.
Project initiators Studio LONK and Ditt. Officemakers collaborated with IBM, Blubrick|Nexton, B. Amsterdam, Locatify and Alvero for this project. As pioneering tech companies, these partners play a huge role in the development of this potential future. By collaborating in the project, they do so while asking the right questions.
Studio Lonk – project initiator
Studio LONK is a design studio specialized in 'spatial storytelling'. Founded by Celine de Waal Malefijt (spatial designer) and Anna Dekker (sociologist), Studio LONK creates large, bold temporary interiors for immersive, memorable and thought-provoking experiences. www.studiolonk.com
Ditt. Officemakers – project initiator
Ditt Officemakers develops concepts, creates design and builds interiors for public and private spaces, with a strong focus on offices. Ditt. designs and builds according to 'what works', but also dares to experiment and question the status quo. www.ditt.nl
IBM manages the valuable data of a host of clients, and has ushered new technologies into the world powerfully, with responsibility and a clear purpose. Alongside policy considerations and business efforts, also science and education play a central role in the way IBM adopts AI. www.ibm.com
Alvero rents office furniture in all temporary situations. For large corporates, government and industry clients, from standard quality to high end brands. Alvero manages its fleet in a sustainable, circular manner. www.alvero.nl
Locatify – project partner
Locatify is an Icelandic software company that provides location-based technologies and mobile apps for interactive museum, tourism, event and education experiences. https://locatify.com
Blubrick|Nexton – project partner
Nexton takes care of all the installation technology of real estate projects, integrating data from different sources and smart technologies. With BluBrick Real Tech, Nexton creates responsive, sustainable, efficient and healthy work environments. www.nexton.nu/
B. Amsterdam – location partner
With its 40.000 square meters and three buildings, B. Amsterdam is the biggest startup ecosystem in Europe. B. is a creative workspace for innovation, education, and growth. https://b-buildingbusiness.com/amsterdam/