Locatify recently released a multimedia guide app for the The ON Geothermal Energy Exhibition. The interactive exhibition is about Iceland's volcanic processes at Hellisheiði Power Plant and is located about 20 minutes drive from Reykjavík in a stunning setting surrounded by lava and moss.
About Geothermal Energy in Iceland
The Geothermal Energy Exhibition exists to show how the geothermal forces beneath the earth in Iceland work, and how they are utilised; it also explains the purpose and functions of the adjacent power plant.
Both of these places exist because of the Mid-Atlantic Rift. This rift runs through Iceland, separating the North American and Eurasian tectonic plates. As they pull apart, magma is brought up from the mantle, making Iceland prone to earthquakes and eruptions, and a hot-bed of geothermal activity.
Geothermal energy is used in Iceland to provide hot water to the towns, and for electricity (although it is a common misconception that this is the main source of electricity, which is actually hydro-power). Over 70 percent of Iceland's primary energy consumption is from renewable sources. Non-renewable sources are mainly only used for transport.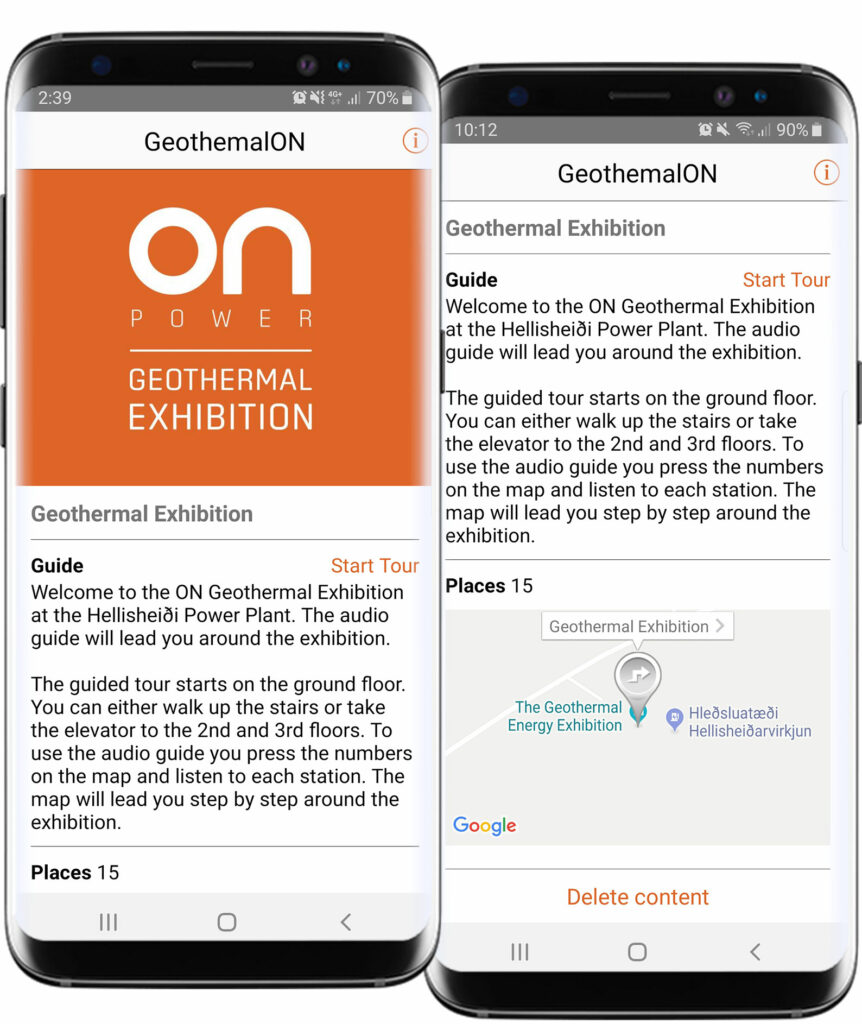 The app features a single multimedia tour guide to accompany the on-location exhibition. The home page provides information about the tour, including number of locations in the tour, location of the exhibition and a button to install and start the tour. View other customer examples here.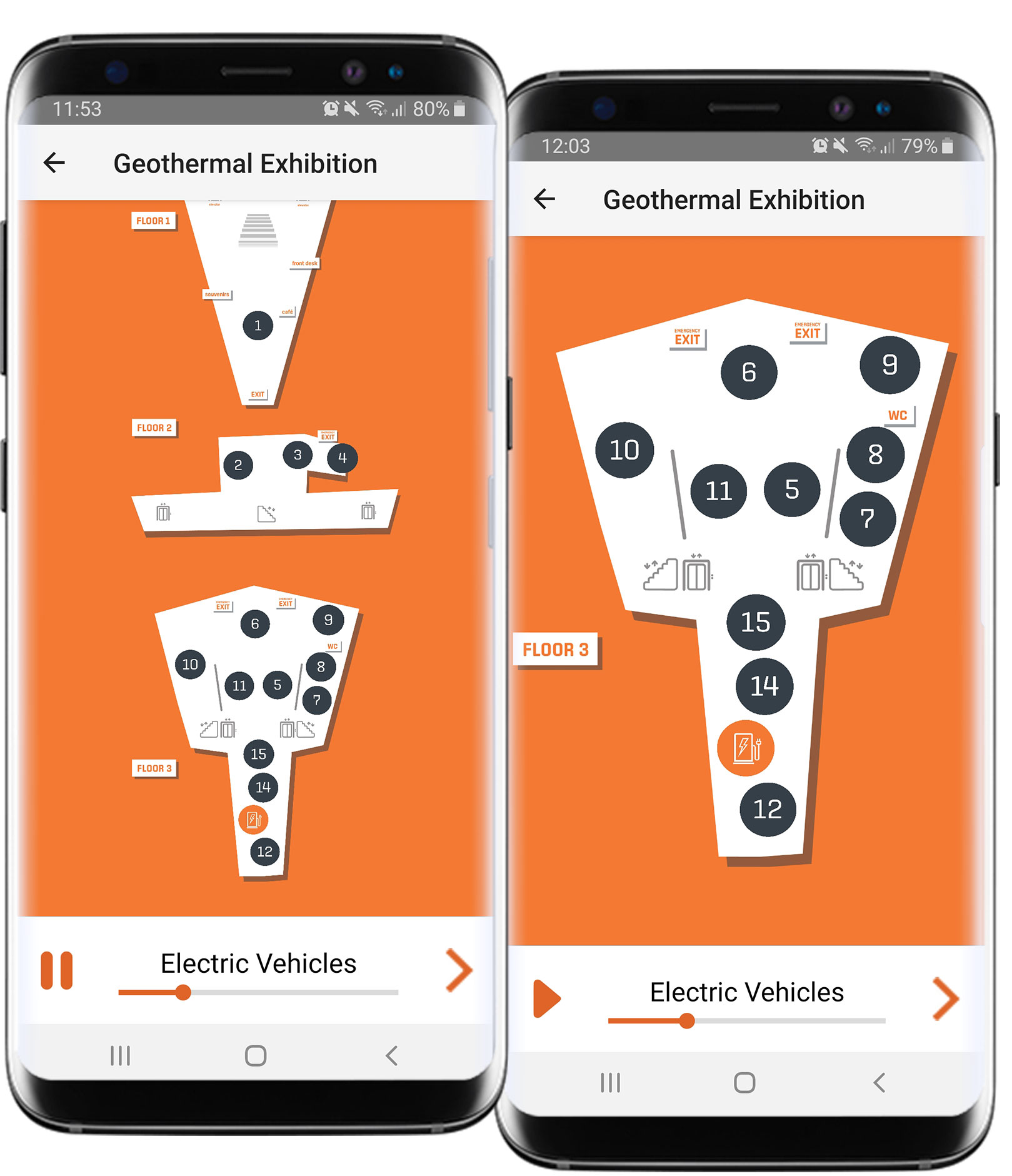 The tour features a zoomable indoor floor map which shows the locations of each "station" or area for triggering the audio files for the tour. The tour is not using any location technology, so the stations can be clicked on to play audio and view more info at any time. The exhibition organisers have the option to add BLE beacons for automatic triggering at a later date.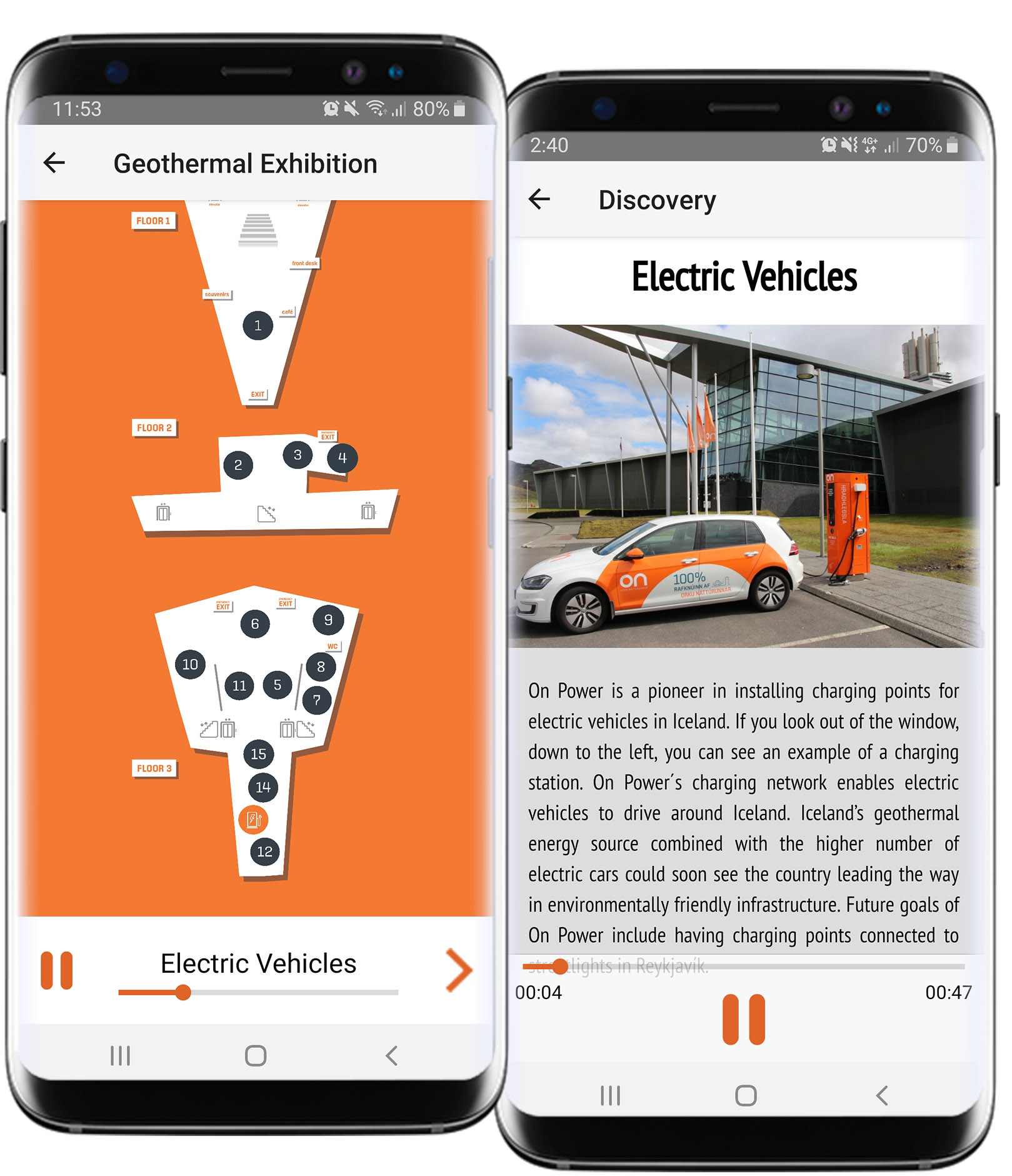 Points of Interest ("Stations")
The exhibition is split in to multiple "stations" which represent different parts of the exhibition. Guests see the floor map with numbered stations on the map. Guests can click on the "station" graphic to open the point of interest to play the audio and view more info about that part of the exhibition. BLE Beacons can be added to the facility and attached to each station at a later date for automatic triggering of content based on guests proximity to the "stations".