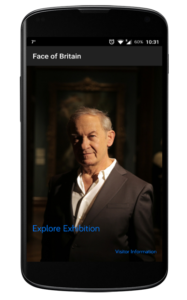 We are proudly announcing the release of an automatic museum guide app for National Portrait Gallery in London, United Kingdom. The app covers Face of Britain exhibition and works on iBeacon technology thus providing location-based content to visitors. The venue included in the app spans across 5 rooms on 3 different floors.
The project started in June 2015 when the National Portrait Gallery (NPG) provided us with the draft of graphics and audio. Shortly after, we built a test-app. The content is imported to the app through Locatify's Creator Content Management System (CMS).
In July we executed the installation of the Beacons which went very smoothly and was done in less than 4 hours including training the staff how to use the CMS. We used Beacons from the Polish manufacturer Kontakt.io. Altogether 14 Beacons, which remain unnoticed on the walls – approximately three meters above the ground, were placed in the building. They activate 5 different stations as well as floors. At that time we also delivered the first version of the app to the NPG staff. Then the NPG staff started with the content production which included floor map images, audio guides and descriptions. In late August the draft content was replaced with the production content through the Creator CMS and the app was ready to be submitted to App Store and Google Play.
The apps were released yesterday according to our plan with the today's exhibition opening and we hope the visitors will enjoy them. They are designed to provide visitors with personalized and interactive experience.
The app can be downloaded from App Store or Google Play. 
Images