Locatify is proud to be showcasing our latest Locatify Education Package update and latest offer at SETT SYD, modern and innovative learning conference in Malmö, Sweden on November 1st and 2nd. Steinunn and team will be presenting the recently released GoldHunt treasure hunt app and the latest updates to GoldWorm eBook app at SETT SYD. If you're in the area make sure to head down and say Hi!
The Locatify Education package combines technology, creation and gaming to facilitate the learning experience. The package combines two Locatify Education apps and our powerful yet simple to use CMS platform. The package includes; GoldHunt Education – A simple to use treasure hunt game app and GoldWorm Education – A simple to use interactive e-Book app.
Motivate students to discover the environment with GoldHunt!
GoldHunt provides students the chance to create and play competitive treasure hunt games. All games are created in the Creator CMS (Discussed below) by educators or students themselves, and can be played solo or in teams. The app shows players their position and treasures on the map. When players approach the treasures outdoor, they have to answer questions or solve challenges, like memory card games or multi choice questions.
Design and publish interactive eBooks with GoldWorm!
With Goldworm Education, students and educators can easily create and publish interactive eBooks with audio, animations, questions and games. This process creates useful material for educators and helps students learn in a fun and interactive way. Check out the Updated GoldWorm tutorial Video on Yotube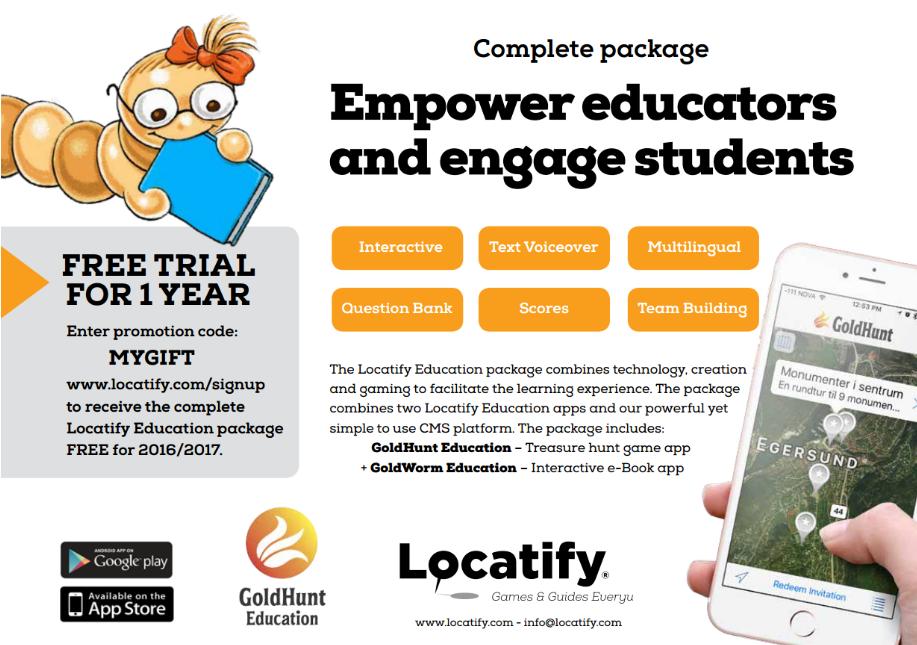 Sign up today!
Use our 1 YEAR FREE TRIAL promotional code "MYGIFT" and your educators email address to receive 1 year free access to the Locatify Education package!
With special thanks to: