It's not every day you get to hike up a volcano. But, if you're Hannah Hethmon of Museums in Strange Places, this may be just another day in the office. Hannah recently visited the Vestmannaeyjar archipelago off the south coast of Iceland to explore the region for one of her latest episodes.
Hannah takes a look at the history of the Island, takes a hike up Eldfell volcano and learns about the events that unfolded here. Hannah also takes a behind the scenes look at the Audio Guide which is a key part of the Eldheimar Museum experience. In the bonus episode, Hannah interviews Locatify CEO Steinunn-Anna Gunnlaugsdottir to learn about the creation of the BLE beacon enabled automatic museum guide.
The Eruption
On January 23, 1973, residents of the island town of Vestmannaeyjar in Iceland were woken from sleep by the sounds of a huge fissure ripping open the earth. The Eldfell volcanic eruption that followed forced everyone to evacuate the island for six months. By the time the eruption stopped, 400 homes were covered by lava and the rest of the island was covered in ash. In this episode, I hike up the Eldfell volcano and visit Eldheimar, a state-of-the-art museum of remembrance built 40 years after the eruption.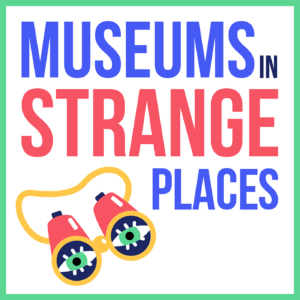 Listen Now
Check out the Memorial to an Eruption (Museums in Strange Places S01 E19) and if you're interested in the techy side of museums, make sure to check out the bonus episode here.