Blue dot experience automatic audio guide
Client
Eldheimar museum is located at UNESCO World Heritage site Surtsey volcanic area on Westmann Islands, Iceland.  The exhibition focuses on the 1973 volcanic eruption in Vestmannaeyjar, providing a glimpse into people's lives on Heimaey, prior to the eruption that would change their lives forever.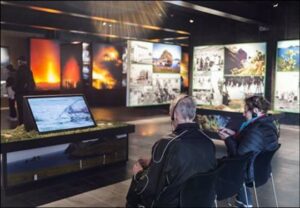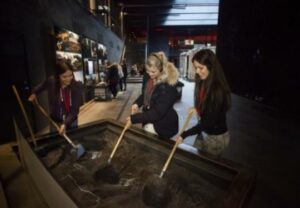 Challenge
The museum consists of an 1100m2 two-story building with a large open space centred around a house that was buried in the volcanic eruption. We needed to provide an "automatic audio guide" allowing guests to explore the many interactive screens and exhibits listening in their own language without having to think about controlling the audio.
Solution
The solution included 100 Android devices with headphones and involved a 80 piece BLE beacon infrastructure placed throughout the venue with careful consideration of how guests would move through the exhibition.
The beacons are positioned in a way that the app knows where the user is located at all times and in-turn, automatically plays audio content relative to where they are in the museum