Get Your Own Branded App!
Easily create native Android and iOS apps with location-based content for both indoor and outdoor locations. Simply choose your desired template and publish in-app content using the Locatify Creator CMS.

Automatic Museum Guide
Tell a better story with the latest technology for museums and galleries
The Automatic Museum Guide uses location-based technology to create immersive museum experiences. The app uses floor maps and BLE beacons or Ultra-Wideband to provide indoor navigation, guidance and contextual delivery of content based on a guests location. With the Automatic Museum Guide visitors get an unforgettable and rich experience.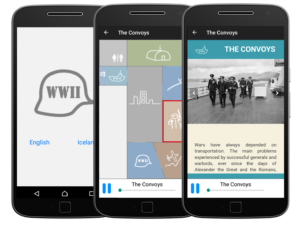 Automatic Tourist Guide
Promote your business and area with your unique app
The Automatic Tourist Guide allows users to explore further with navigation, guidance and narration. The app features an easy to use interface with offline maps,  GPS guided tours and treasure hunt games, points of interest and customizable map markers. Increase sales and generate extra revenue through in-app advertising, coupons and bookings. The Automatic Tourist Guide is designed for tour operators, rental car and transport companies, municipalities other tourism related organizations and institutions. With the Automatic Tourist Guide you ensure traveling is simple, fun and unforgettable.
Automatic Retail Guide
Increase sales and engage customers in your retail shopping center
The Automatic Retail Guide ensures a rewarding retail shopping experience. Navigate customers through your shopping center with venue floor maps and BLE beacons whilst delivering location based targeted advertising. Engage customers with treasure hunt games or through navigation and reward them with coupons.
Automatic Event Guide
Engage and inform guests with information and games for team-building
The Automatic event Guide is the perfect addition to your next event or expo. Event organizers use the Event Guide to enrich guests experiences both indoor and outdoor events. Greet your groups with your branded event app with treasure hunt games, offline maps, schedule and reference material for the event.  Manage the activities and content in the app using the Locatify Creator CMS and present scoreboards for the games.