What is The Automatic Retail Guide?
The Locatify Retail Shopping Centre App is a great tool for improving the shopping experiences, delivering value to customers and businesses.
The app provides a direct digital medium for connecting with shoppers to deliver value and collect data. It can be used as an indoor treasure hunt game to gamify the shopping experience or as a guide to deliver location specific information in an innovative way.
Locatify's Retail Shopping Centre App adds measurable value, both to internal and external customers.
How is it used?
The simple to use app works for both indoor and outdoor locations, using GPS and indoor Bluetooth Beacons to detect where visitors are located and trigger content delivery. The app shows a map of an area with points of interest (Stores, facilities, entertainment etc.) and detects where the user is located, triggering corresponding challenges or notifications when guests approach pre-set objects.
The map allows shoppers to navigate the shopping center effortlessly whilst providing retail stores with a new direct medium for sending location based targeted advertisements and deals via coupons at desired times and locations.
The apps administrator can easily publish their own content and update the app using the Creator CMS (discussed below).
Where can it be used?
The Automatic Retail Guide can be used in any indoor and outdoor shopping location . Visitors simply install the app on their own phone and use it as a digital guide.
Try it for free!
Everybody can create and test their own limited tours and games in the Locatify Creator CMS and generic test-app free of charge. Simply sign up for Locatify Creator CMS and download the TurfHunt app to Android or iOS. Create your desired tour or game in the CMS and publish for testing in the TurfHunt test-app.  For indoor tours and games you will need a venue floor map and your own beacons.
Get you own branded app!
Add visibility and brand awareness with a branded app with your graphics and content. You have complete control over the content which can be added, changed or removed in the Creator CMS at any time.
Read more:
Custom Branded App

increases online agency and visibility of your brand

Offline Content

does not require internet access to operate once the app is installed

Multilingual

allowing users to listen, watch or read descriptions in various languages

Indoor & Outdoor

locations supported in one app via BLE beacons and GPS

Outdoor Navigation

supported by Google Maps and GPS

Multimedia Guided Tours

to entertain and inform guests

News and Announcements

can be delivered to visitors directly through the app

Increase Website Traffic

with in-app website link (may require internet connection)

Treasure Hunt Games

support active learning & encourage people to explore the area

Advertise

local businesses or destinations

Custom Maps & Markers

create a unique user experience and allow for monetizing the app with advertisement for cafes,  shops and other points of interest

Coupons to advertise discounts for cafes,  shops and other points of interest
Optional Login

to collect user contact details

Social Media

sharing integration
Cloud based CMS

to upload and make changes to in-app content in real-time

Easily manage text, audio, video, HTML, maps, tours, games, coupons

Easily manage

locations that trigger content

View

app download reports, analytics and game observer in one place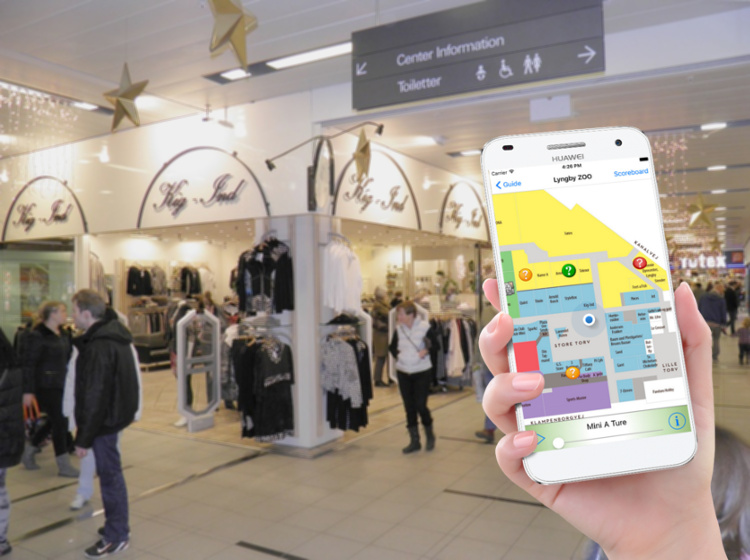 Testimonials
---
"THANK YOU LOCATIFY!

A BIG THANKS to the dedicated Locatify team who have been working with us at Geotrail for the last couple of months.
Based on our ideas the Locatify team developed and customized the app and CMS module, that served as a virtual platform for the shopping centre event! The game concept and the technique worked as planned, and even though the weather was a bit rough, all participants seemed to enjoy the event.
At Geotrail we look forward to continuing the cooperation with Locatify, improving the app and maybe pursuing new possibilities." – Morten Salomonsen, CEO, GeoTrail
---